Sincoheren 3rd generation of SHR technology with FP+SHR+traditional IPL ( PreciPulse)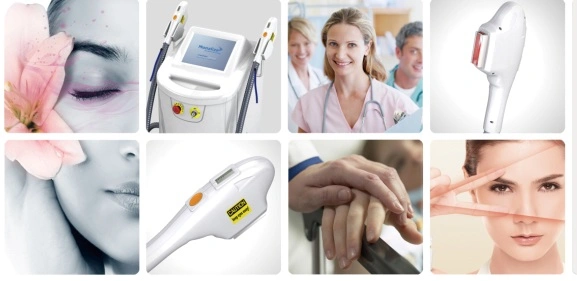 Features
UI Flat design

SHR/ FP / IPL Combined Treatment Modes

Precipulse-- Preci Energy Control System

MINI Hand Piece

USB Reserved Connector for Future Upgrading
What is SHR?
SHR stands for Super Hair Removal which utilizes the most advanced technology of "in- motion" to carry out pain-free treatment. SHR is able to output 10 shots at 1 second and make treatment movable. Combining with perfect semi-conductor cooling system, this machine brings totally pain free and comfortable treatment feeling. It is more effective than traditional IPL machine.
FP=Flyer Point
FP mode was developed by R&D Department of Sincoheren. FP outputs a series of pulses during operation in different sensitive areas, such as upper lips, hairline, and front ear etc. By using FP mode to do hair removal, the treatment is more accurate and effective, especially for thin hairs. More comfortable treatment experience on small areas will be realized.
OPT Precipulse Technology
1. Multi-pulse technology makes treatment more efficient through selectively adopting different pulse width and duration on different target tissues.
2. Perfect square, balanced energy output and

"

in-motion

"

treatment will be well realized.
3. Epidermis will be maximally protected and gradual increasing of epidermis temperature is guaranteed.
4. Target tissue reaches treatment temperature rapidly so as to guarantee therapeutic result.
5. Totally comfortable treatment, no side-effect.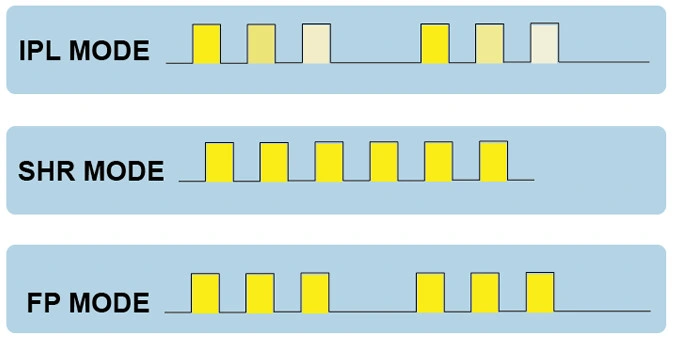 Applications
Hair removal

Skin rejuvenation

Wrinkles reduction

Skin tightening

Acne Lightening and eliminating

Skin elasticity improving

Vascular lesions removal

Telangiectasis curing

Freckles eliminating

Removal of pigmentations, age spots, sun spots, etc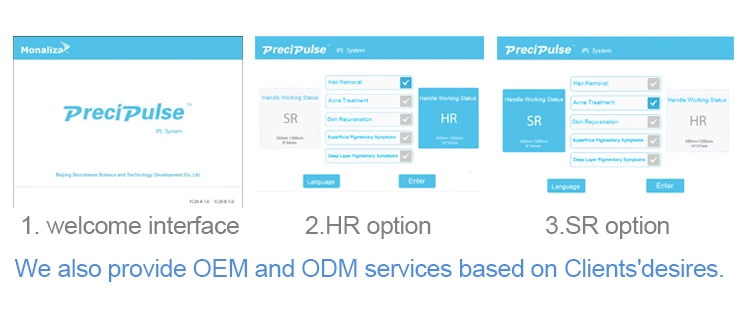 Advantages
PreciPulse, accurate energy output (deviation <5%)

3 treatment heads: HR; SR; VR

3 treatment modes, traditional IPL, FP (FlY POINTS) mode, SHR mode for different diseases

2000W IPL power supply system, discharge frequency 1Hz

Strong cooling system and 100W power guarantees continuous working for one hour and a half

Mini and delicate treatment hand Piece, easy to output

TDK-Lambda switching power supply system

USB reserved connector for future upgrading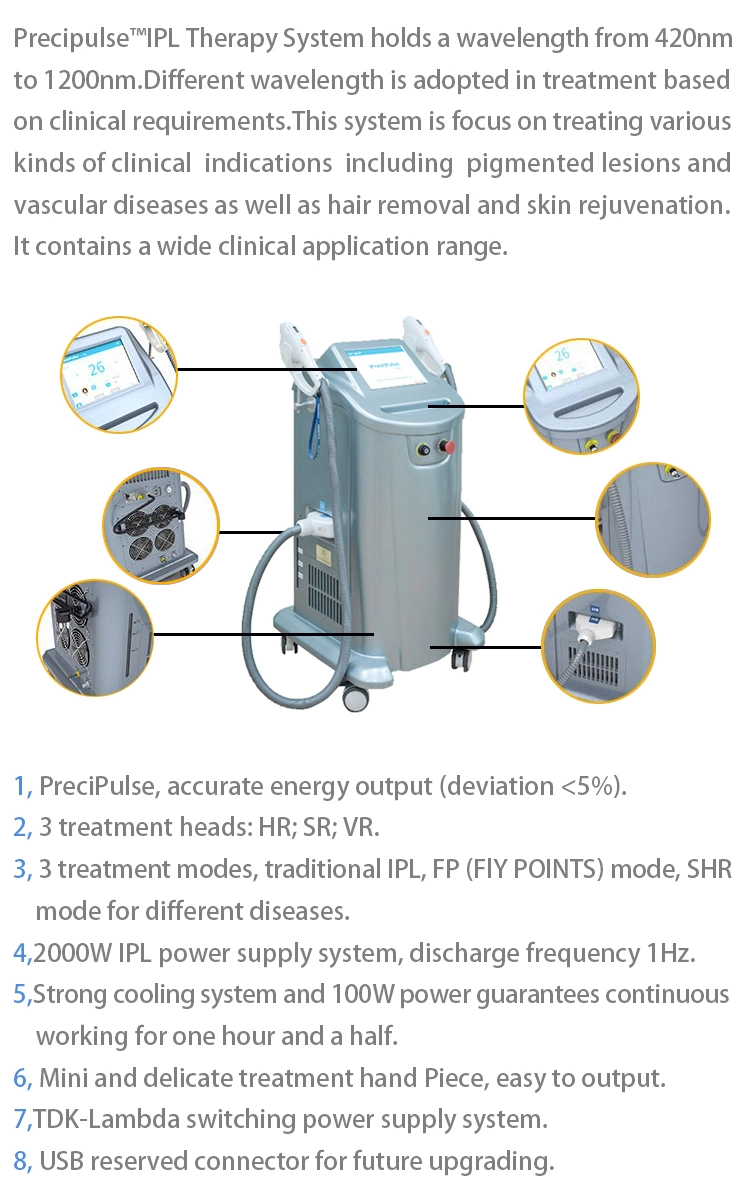 Hand Pieces for different treatments:
Spot Size: HR 16*57mm, SR 8*34mm, VR 8*34mm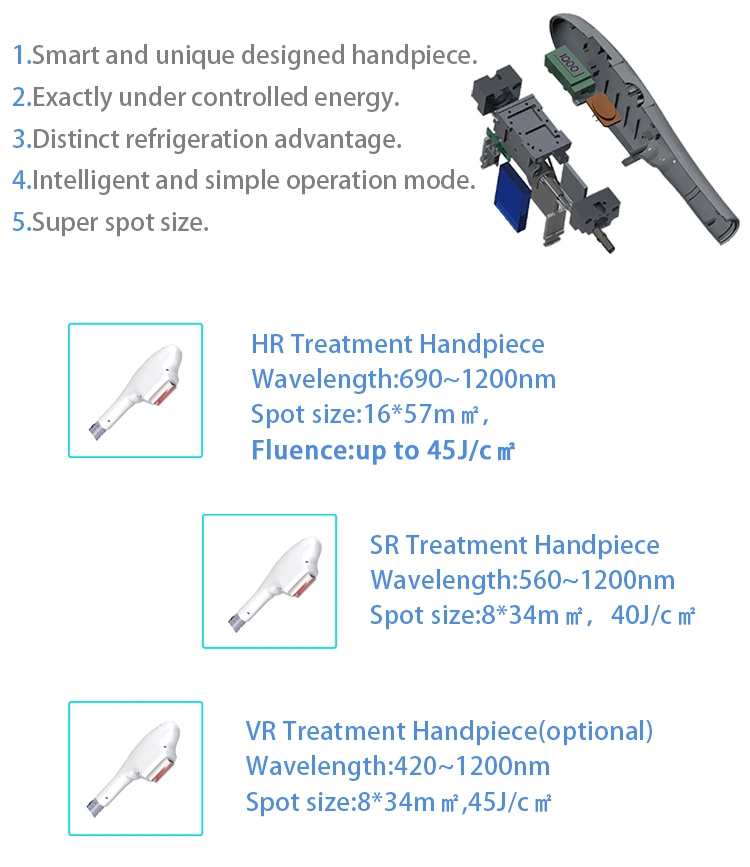 Specifications:
| | |
| --- | --- |
| Light source | Xenon lamp |
| Spectrum | HR 690-1200nm SR 560-1200nm |
| Pulse duration | 20-149.7ms |
| Pulse Sequence | 2 or 3 Pulses |
| Repetition | ≥0.5Hz |
| Energy density | 20-50J/cm² |
| Spot size | 16×57 mm for HR 8×34 mm for SR |
| Cooling system | Semiconductor cooling, Built-in water cooling and air cooling |
| Skin cooling | Contact skin cooling technology |
| Electrical requirement | 230VAC 50Hz 1200W |
| Dimension(W×D×H) | 46cm*75cm *40cm |
| Net Weight | 36kg |


Certifications
FDA, ISO13485, CE Approval .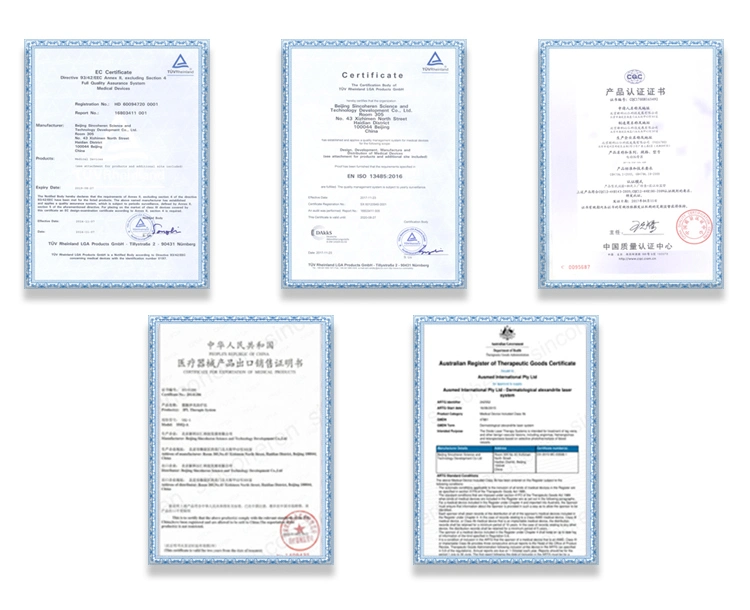 Packaging & Shipping
Professional and well packaging guarantees safety in long distance transportation.
Package size: 620mm

×

680mm

×

1240mm, Net weight: 45KG
Shipment
Sincoheren has long time cooperation with DHL, TNT, UPS, FedEx and other freight forwarders, best price offer to customers.
Our Services
24 hours quick response!

User manual, service manual, maintenance manual and DVD are supplied to clients for usage

1 year free warranty and life-long maintenance service!

Professional engineer service and branch offices in Europe, Australia and HK, quick after-sale service!
OEM/ODM Service
Sincoheren has an integrated professional system of products research and development, manufacture, certificates identification and market promotion.

Comprehensive and well organized SPDP procedure guarantees products development.

50 staff works for R&D department in Sincoheren.

Successfully provide OEM/ODM service for USA distributors, Germany distributors, Turkey distributor, and Australia distributors, etc.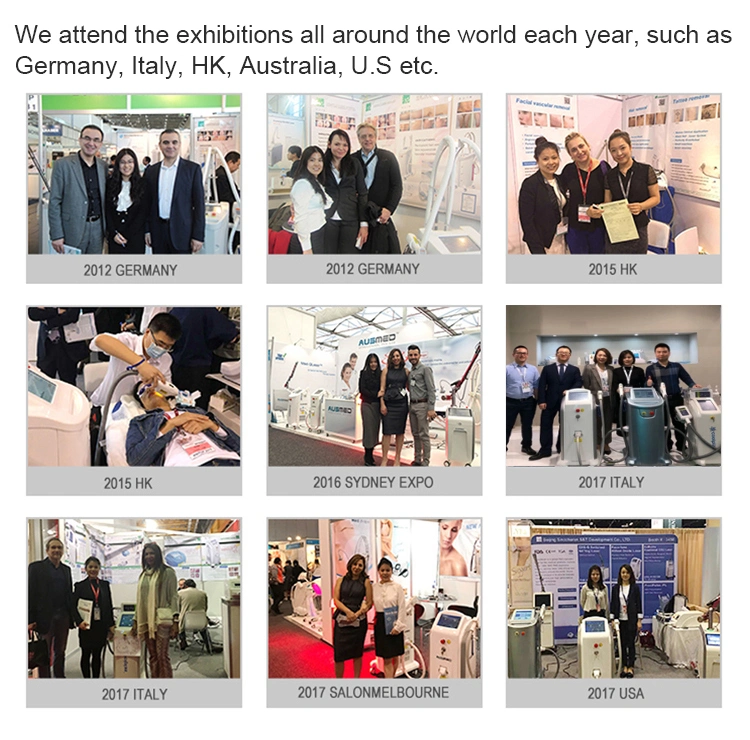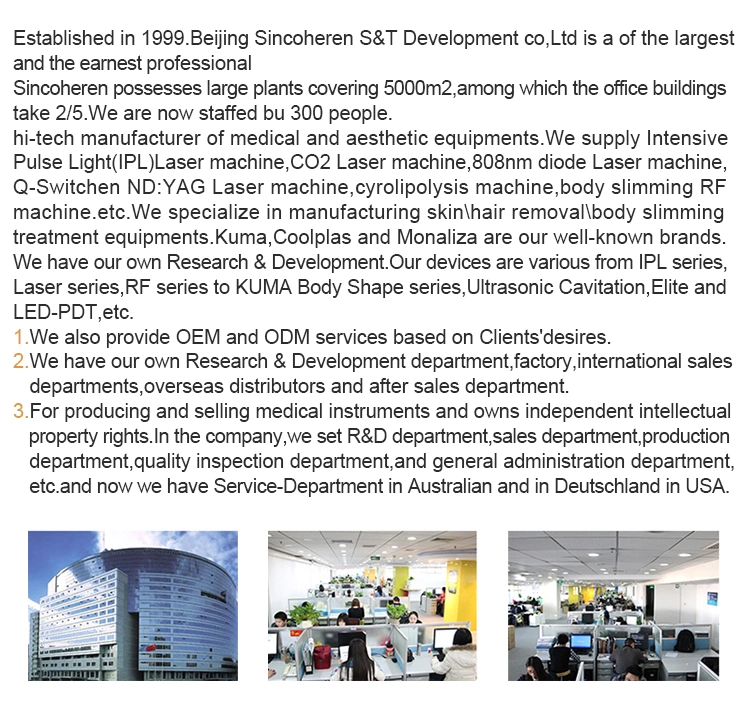 FAQ
Q: What areas can be treated with IPL Permanent Hair Removal Machine series?
A: IPL series remove hair from all parts of the body including the face, legs, arms, underarms, and back. It can also treat sensitive areas like the chest, nipples, and bikini line.
Q: Besides the treatment for hair removal, what other treatment can I get?
A: It's also a non-invasive light treatment that can be customized for different skin tones and aging skin conditions. The result is an exceptionally effective skin rejuvenation treatment with minimal discomfort.
Q: What do treatments feel like?
A: When the pulse of light is delivered, some patients experience a mild pinching or stinging sensation. No local anesthesia or pain medication is typically required, Gel is recommended to cool the skin before vascular treatments. However some patients may prefer to use a topical anesthetic when sensitive areas are treated.
Q: How many treatments will I need?
A: Each treatment regimen is different and customised to an individual patient's needs. Most areas require 3-6 treatments. However, treatments required for optimal long-term benefits depends on multiple factors - hair thickness, the area treated and your hair's growth cycle. Interestingly, not all hairs are actively growing at the same time and actually go through three distinct phases: growth, regression, and resting.
Q: What happens after the treatment?
A: Immediately following IPL treatment, the area may appear a bit red and swollen. Three to seven days after treatment you may experience what seems to be regrowth of hair. Actually, most of these hairs are being shed as a result of your treatment and are not regrowing. Between treatments you should not wax or pluck your hair, but it is permissible to shave.
Q: Are there any restrictions on my activities after treatment?
A: Following the treatment, you can return to your normal activities right away, but some redness may occur. The use of sunscreen is recommended on any treated areas exposed to the sun. In addition, your physician may recommend that you use a specially formulated skin care product line or prescribe a skin care regimen especially formulated for your skin type.
Q: Are there any side effects?
A: The most common side effect is a slight redness or mild swelling in the treated area that disappears within a few hours.
Q: When will I see results?
A: Immediate results are observed by some patients. More typically, you will see results in two to four weeks and improvements will continue for several
Fiona Cao
Sale Manager
Beijing Sincoheren S&T Development Co., Ltd