Product introduction:
Bed-type fermentation equipment, the main structure of the equipment frame is galvanized steel and pickled and phosphated steel, and the whole frame is sprayed with special materials, which greatly increases the service life of the equipment. The contact position of the fermentation bed and feces is all made of 304 stainless steel including screws.
The operating principle of the equipment adopts the heat generated by natural fermentation of feces, and the heat is efficiently recovered to continuously support the stability of the overall fermentation. Each raw material of the fermentation requires about 7-10 degrees of electricity. When the temperature is low, an electromagnetic heating auxiliary system is used. The raw materials are fermented in the equipment for 48 hours to achieve deodorization, insecticide, decomposing, and low moisture content in the fertilizer.
Environmental protection processing equipment is designed according to the biological characteristics of animal manure the integration of intelligent processing equipment, it will through the feces or mud and straw, corn cob and other organic waste mixed in certain proportion after reaching appropriate moisture content, and oxygen, stirring for mixing materials natural temperature fermentation rotten, kill a large number of bacteria, pathogens, won't produce odor, fermentation process fully enclosed, will not cause secondary pollution, due to its use multilevel fermentation, multistage double throw, can automatically control temperature, oxygen consumption, at all levels within 48 hours fully decomposition macromolecular substances in the feces, kill pathogenic microorganisms, eggs, to achieve the requirement of the disposal.Adopt waste heat recovery system, do not need to add additional heat source, low operation cost.Fermentation at high temperature produced low moisture, high content of organic matter, nitrogen and potassium.Can be used directly for agricultural fertilizer, but also can improve the soil structure, increase production and income.
After processing of livestock and poultry dung can be used as fertilizer to grow crops or direct foreign sales, also can be used as organic fertilizer raw material for further processing, become the standard of nitrogen, phosphorus and potassium content of agricultural organic fertilizer, wheat straw, corn cobs, on the basis of this truly achieve pollution-free resource utilization, and additional economic benefits of farms,
1. 4 hours biological deodorant
2. Easy to operate ,only need one person
3. Energy conservation and environmental protection
4. Faces with water content below 90% can be treated directly
5. Fast fattening in 48 hours
6. Low operating cost ,low energy consumption
7. Provide technology and configuration solution
8. Suitable for farms ,organic fertilizer plants ,sewage treatment plants

After the biological strains independently developed by Hongfa Environmental Protection are combined with the feces, the feces are put into the box on the same day, and the odor can be deodorized on the same day. Based on the combination of dynamic and static high-temperature fermentation process, while eliminating eggs and sterilizing, the feces undergo high-temperature aerobic fermentation in the equipment for 1-2 days, and after being placed, organic fertilizer meeting the national organic fertilizer standard will be produced.
production material
Livestock and poultry manure, Hongfa environmental protection strains, condiments: cassava residue, wine residue, mushroom residue, rice bran, platycodon, sawdust, wood ash, peanut shells, corn cobs, etc. can be optionally added.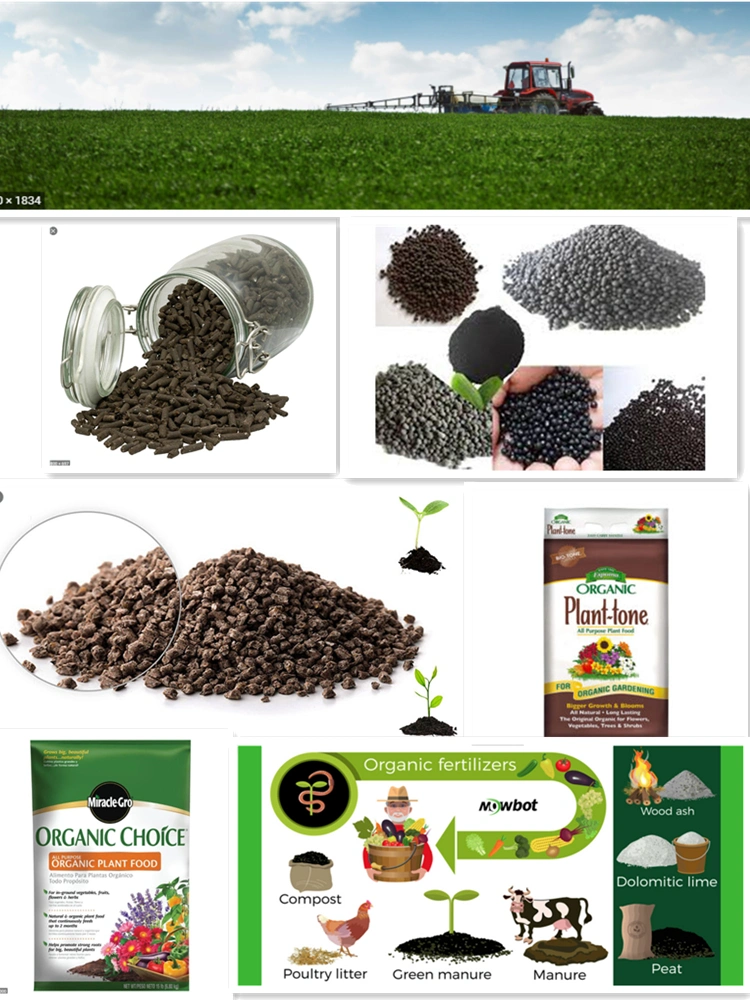 Organic fertilizer production process
Livestock and poultry manure, condiments, strains-adjust the ratio of carbon and nitrogen and moisture-convey feed-high temperature fermentation, deodorization, insecticide, dehumidification, decomposing-put 3-5 Heavenly heat-crushing powder sieve granulation packaging-organic fertilizer for sale
Equipment scheme
Main equipment: Hongfa environmental protection integrated treatment equipment for livestock and poultry manure, daily treatment capacity is determined by equipment specifications
Auxiliary equipment: batching machine, in and out conveying equipment
High temperature oxygen-consuming fermentation, biological deodorization, decomposing, aging, oviposition, sterilization, nutrient preservation
| | | | | | |
| --- | --- | --- | --- | --- | --- |
| Model | HF-5 | HF-10 | HF-20 | HF-30 | HF-50 |
| Size | 9*2*2.7m | 12*2.4*3.4m | 15*2.4*4.1 | 17*2.4*5m | 17*5.2*5.5 |
| Volume | 10m3 | 20m3 | 40m3 | 60m3 | 100m3 |
| Batching machine /volume | 4.4kw/1m3 | 4.4kw/1m3 | 4.4kw/1.8m3 | 4.4kw/1.8m3 | 4.4kw/1.8m3 |
| Heat recovery fan machine | 1.5kw | 1.5kw | 3kw | 3kw | 4kw |
| Oxygen supply machine | 1.5kw | 1.5kw | 3kw | 3kw | 3kw |
| Infeed conveyor belt | 2.2kw | 2.2kw | 3kw | 3kw | 3kw |
| Discharge out conveyor belt | 1.5kw | 1.5kw | 1.5kw | 1.5kw | 3kw |
| Finished conveyor belt | 0.75kw | 1.1kw | 1.1kw | 1.5kw | 1.5kw |
| Deodorizing spray tank | 1.5kw | 1.5kw | 2.2kw | 2.2kw | 4.4kw |
| Main machine weight | 8t | 12t | 16t | 18t | 36t |
| Daily capacity | 5m3 | 10m3 | 20m3 | 30m3 | 50m3 |
| Installation size | 27*5*3.5m | 30*5*5.5m | 33*5.5*5.4m | 31*6*6m | 44*8.5*6m |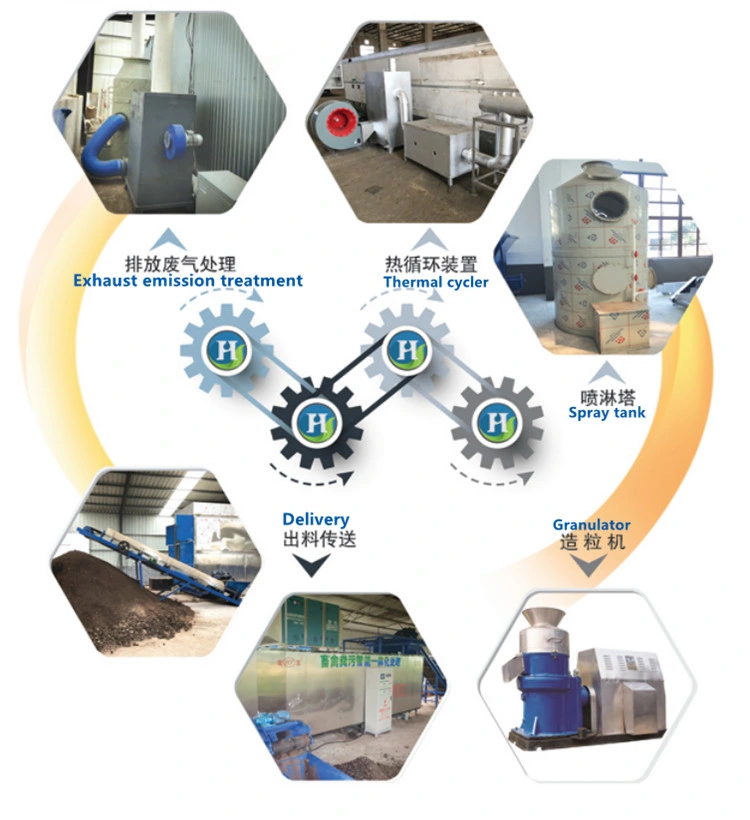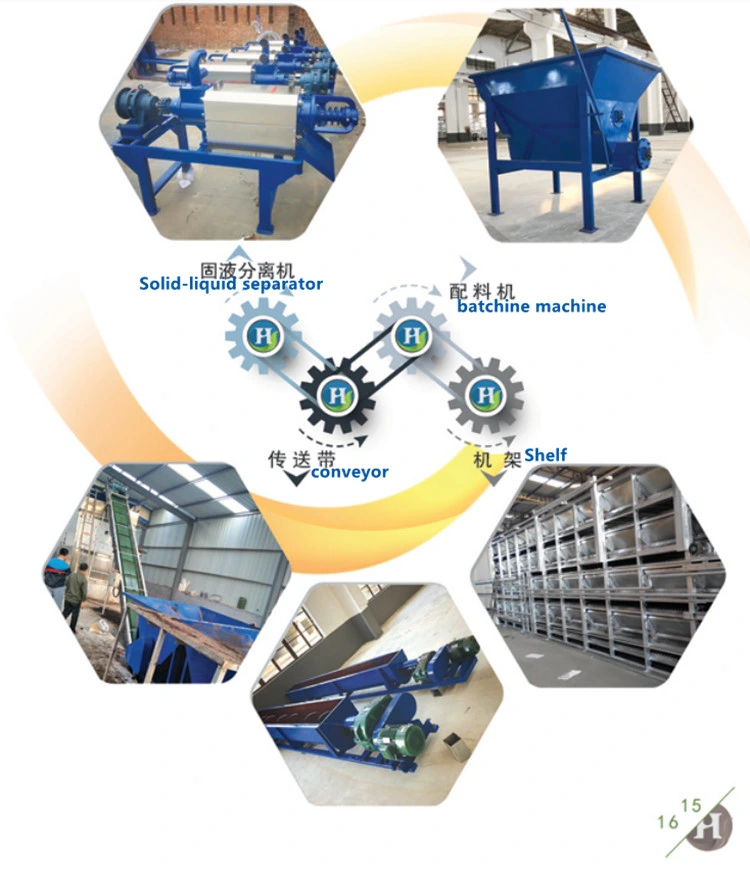 Comparison of the advantages of Hongfa environmental protection and other equipment
1. Traditional composting: the whole process takes 25-30 days, the fermentation process is slow, and it covers a large area. It overturns once about 10 days after compiling, which consumes a lot of manpower.
2. Tower equipment: 24-hour continuous operation of fermentation, power consumption of 100-130 degrees/ton, small fertilizer output of a single machine, fermentation cycle of more than 7 days, during operation, if the power is cut for more than five hours, the equipment needs to be reloaded. Large investment.
3. Drum equipment: high energy consumption, 50-70 degrees/ton, low daily output of single equipment.
Hongfa environmental protection equipment (bed type fermentation equipment)
1. Adopting patented design, direct oxygen into the material to be fermented to make it fully fermented.
2. The materials are fermented in layers and cycles in the tank, and the three-zone separation technology is adopted at the bottom of the equipment to make the materials more completely fermented.
3. The fermentation cycle is short, the feed is 8 hours to deodorize, and the fertilizer is completed in 48 hours.
4. Low discharge water content.
5. One person operation saves time and manpower. Small footprint, low cost, simple and convenient operation.
6. Low energy consumption. The equipment adopts advanced solar heating technology and electromagnetic auxiliary heating system. Only 7-10 kWh of electricity per ton of finished product. The equipment adopts partial static fermentation, which greatly reduces energy consumption. The internal temperature of the equipment is maintained at 70 degrees Celsius, and the waste heat is recovered, which is highly energy-efficient. It can operate normally after restarting at any time after power failure. The equipment technology is mature and cost-effective.
7. Low strain consumption, 1 kg of strains can ferment 8 cubic materials, and the price of strains per square of material is about 4-6 yuan.
8. The cost of machinery and equipment can be recovered within 3-4 months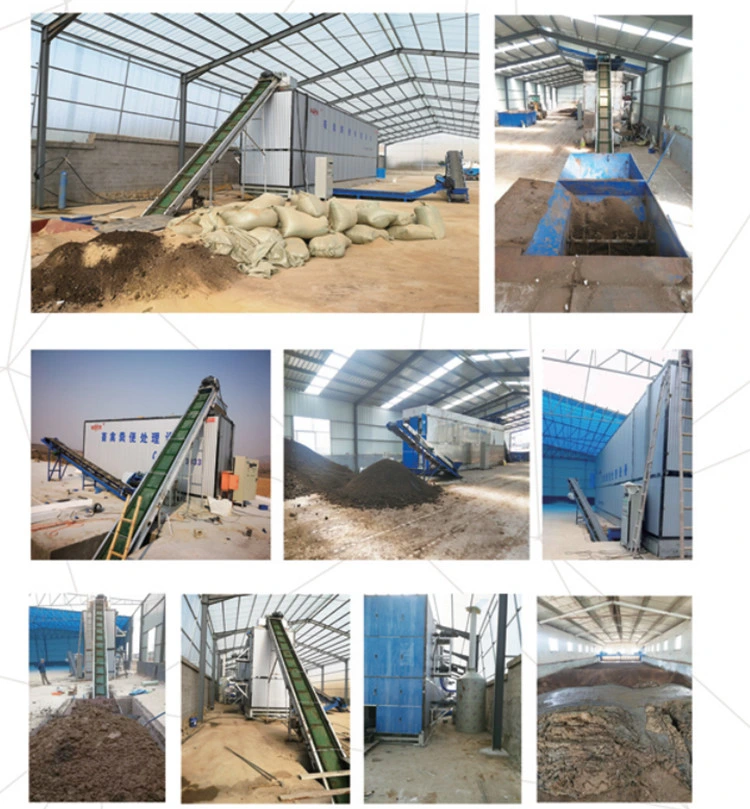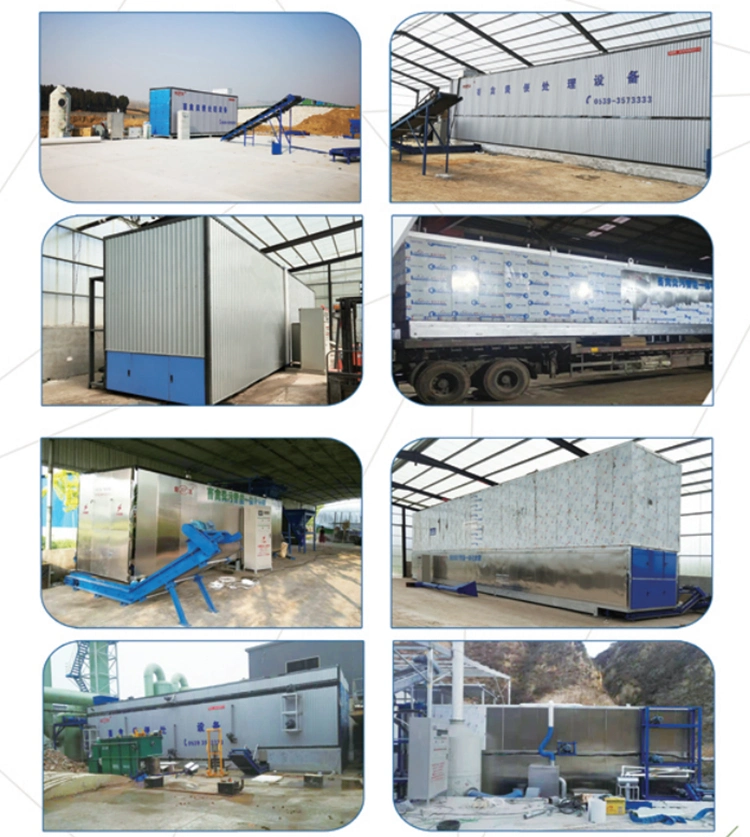 client visite factory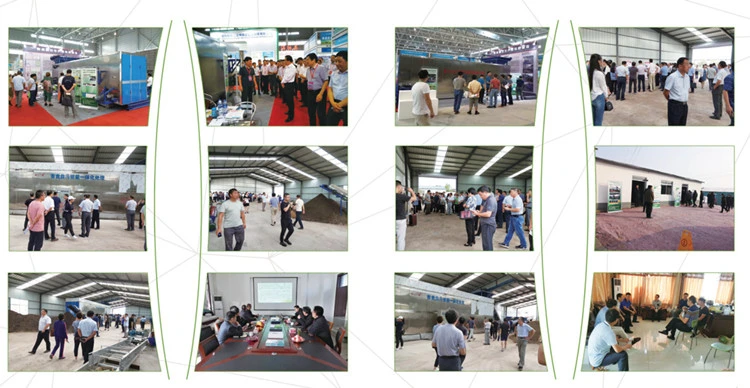 Hongfa Machinery is your best choice

Brand and quality
We are a construction and building materials equipments manufacturer mainly produce all kinds of AAC block making machine,concrete mixing plant,mixer,concrete block making machine,concrete tile making machine and concrete pipe making machine etc. with more than 30 years experience and being the biggest manufacturer in China at present.All the products are conformity with the standard of the state, and gets the ISO9001-2000 Quality System certificate, also honored as "One of the Top Ten Famous Brands of Brick & Tile field in China" and other honors.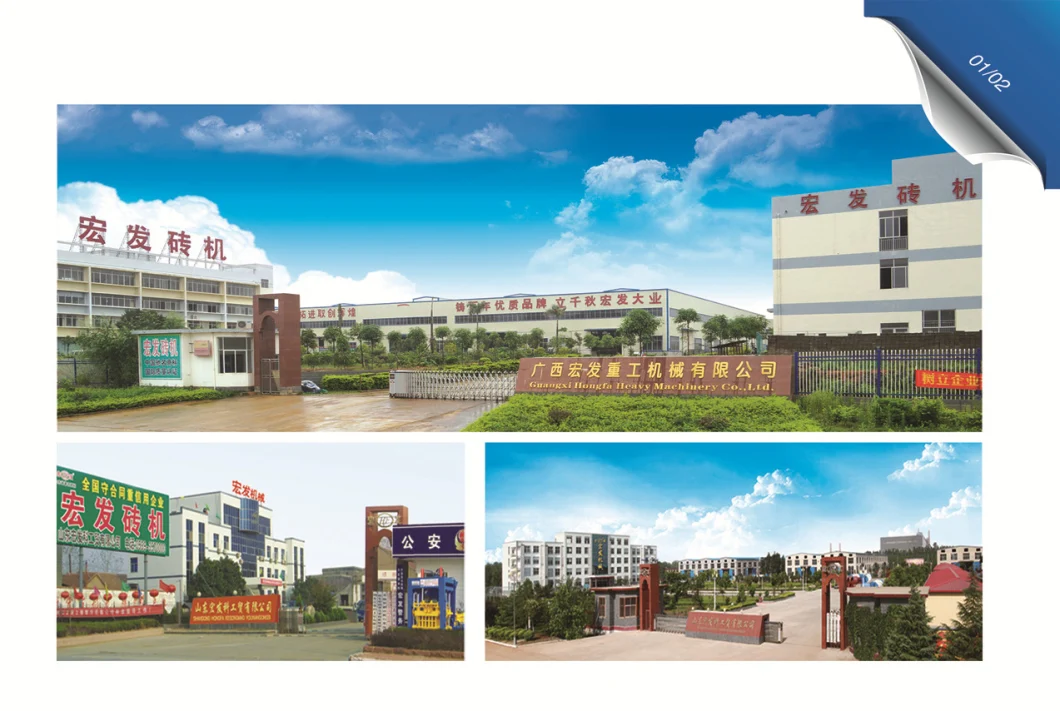 Hongfa Machinery Group Main Products :
Main products: Concrete mixing plant,mixer, concrete block making machine,concrete tile making machine and concrete pipe making machine ,New environmental protection equipment .
Automatic Block Making:
QT12-15D QT12-15 QT10-15D QT10-15 QT9-15 QT8-15D
QT8-15B QT6-15D QT6-15C QT6-15B QT4-15D QT4-15C
QT4-15B QT4-20C QTJ4-25
Semi-automatic:
QTJ4-35B2 QTJ4-40B2
Semi-automatic egg-laying machine:
QTY4-30 QMJ4-45 QTJ2-45 JMQ-6A
Color Paver Color tile forming machine:
QT3-20 SMY8-150
HF-800 pipe-making machine HF-2000 pipe-making machine
Concrete Mixing Plant:
HZS25 HZS35 HZS50 HZS60 HZS series
AAC Block production line : 50000~300000M3/Year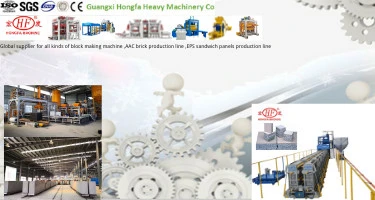 Contact Information:
Foreign Trade Dept. :Jiffy

Fax:0086-771-6036901
Guangxi Hongfa Heavy Machinery Co., Ltd.
Wesite: gxhongfa.en.made-in-china.com