Walkthrough Metal Detector (WT-100)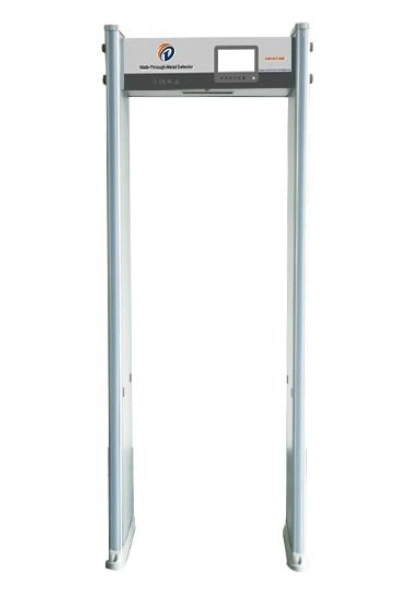 Application: to detect the extremely small metals(≥ 6 grams Metal) hidden inside the human body such as razor blades, paper clips, electronic chip etc. This kind of metal detector is widely used in airport, railway station, subway station, workshop, big exhibition etc.
Features
a.Both the module application and the settings adopts digital signal control.
b.Sensitivity can be adjusted according to the sample.
c.Use LED side diffusion alarm method, can distinguish the metal size.
d.Strong and weak indicator light can automatically check the surrounding environment.
e.7-inch big LCD color screen with graphic operating interface.
Basic parameters
Power Supply: AC85~264V/50Hz.
Power:<=10W low power consumption, low radiation.
Frequency: 100 frequency bands, self-adaption when boot.
Working environment: -20ºC ~ +45ºC.
System detection: detect whether there is a fault in the system.
Partition function: 6/12/18/33(36) can be randomly divided to accurately determine the location of the location of metal objects.
Sensitivity adjustment range: 1000 levels sensitivity adjustable,0~999 level.
Alarm function: sound and light alarm simultaneously, support record max 99999 alarm times.
Alarm query: can check the alarm record according to the date time, and the indicator light shows each alarm location information.
Anti-interference force: digital circuit design, anti-omission of report, infrared anti-disturbance, and with strong anti-interference ability.
Application: high - middle and low sensitivity adapts to all security check site quick debugging.
Backup power(optional): battery power will not be less than 8 hours.
Sensitivity self-adaptive: can identify the sensitivity according to person carried metal on when pass the walk through metal detector.
Recognition function: use LED side diffusion display mode to inform the security staff of the metal objects size.
Fixed ID: each product has a fixed ID number.
Multilingual display: can choose the appropriate language as needed.
Calendar: can display Year, Month, Day, Hour and Minute.
Manage encryption: effectively prevent data from being illegally modified or mis-operated,
which may result in abnormal work.