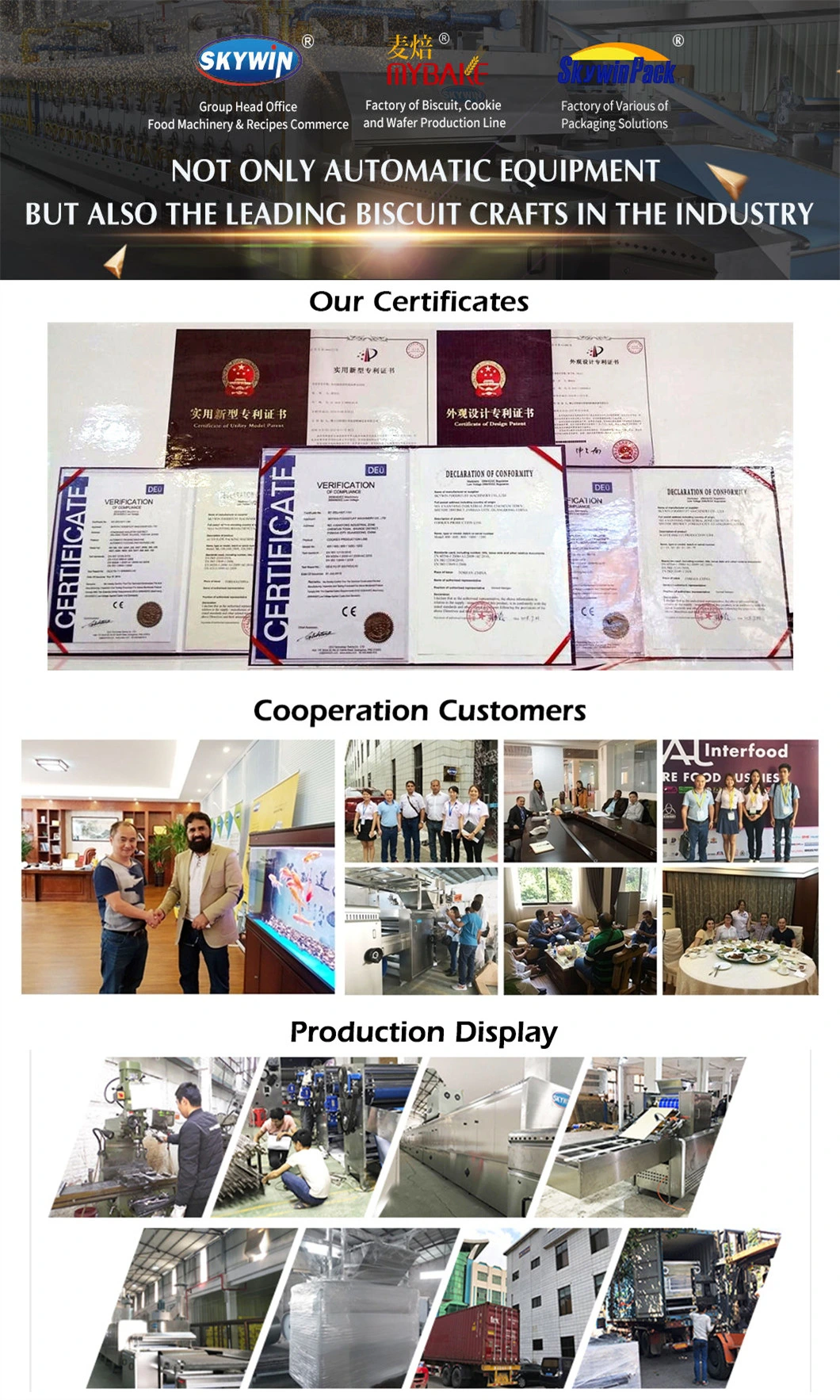 Production Features:
1. Skywin wafer stick production line/ chocolate wafer biscuit making machine/ wafer line is used for wafer biscuit forming
2. The whole process is fully automatic including depositing,mould plate vibrating, cooling, demoulding , conveying and plate heating.
3. It can be customized as your requirements
4. Our package by wooden box or pallet or carton box according to requirement and shipped by sea from SHUNDE port.
5.Our gas baking oven has model-27,33,39,45,51,63,75 plates for your option.
6.The gas system adopt Italy Madas brand.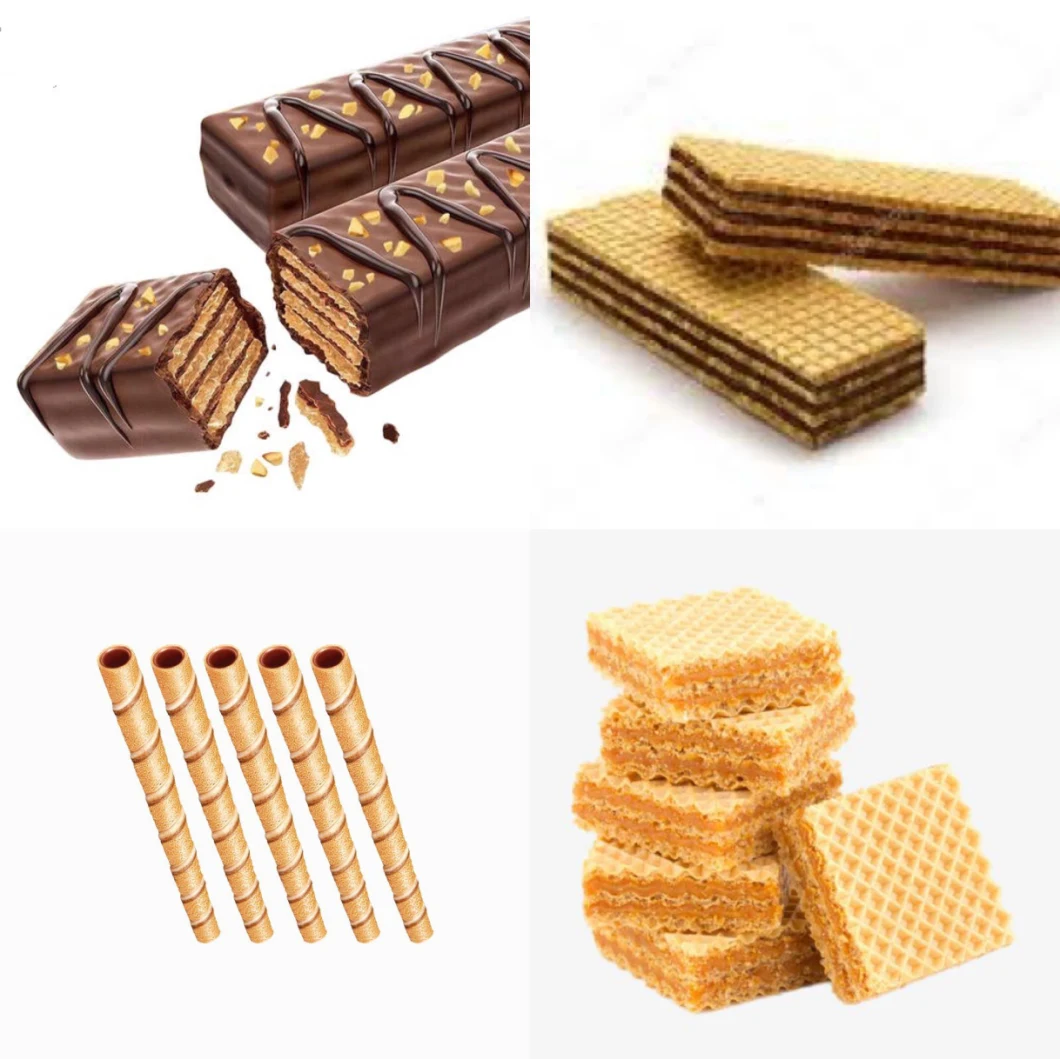 Biscuit Sample
This production line is mainly used to produce wafer biscuits, such as Sandwich wafer, Coating wafer , Wafer volume and so on.

A whole line consist of:
1. Batter Mixer for the Wafer Biscuit Dough
2. Wafer Baking Oven ,Different Model according to Different Capacity
3. Sheet Received Machine For Wafer sheets from Oven
4. Horizontal or Vertical Door Cooling Tower
5. Sheet Picking Machine For Wafer Sheets from Cooling Tower
6. Cream spreading machine with roller heating system, One Color(cream or chocolate available)
7. Cooling Cabinet&Cooling Compressor
8. Sheets Laminated Machine , Sheets Laminated Machine
9. Cutting Machine, Knife cut type
10. Cream Mixer For Cream or Choncolate
11. Smash Machine For Recycle
12. Chocolate Coating Machine with Cooling Tunnel
13. Wafer Packing System
ype / Plates

Capacity per hour

Power source can be use Electricity or Gas.

27

96kg

33

120kg

39

140kg

45

160kg

51

180kg

63

220kg

65

230kg

69

240kg

75

260kg

Above capacity is base on each wafer sheet weight 50g/pc,wafer sheet :cream=1:1.3
| | | | | | | | | | |
| --- | --- | --- | --- | --- | --- | --- | --- | --- | --- |
| Mold | 27 | 31 | 33 | 39 | 45 | 51 | 65 | 69 | 71 |
| Baking Oven Length(mm) | 6000 | | 7150 | 8300 | 9450 | 10600 | 13300 | 14000 | 14400 |
| Whole Line Length(mm) | 22000 | 22750 | 23150 | 24300 | 25450 | 26600 | 29300 | 30000 | 30400 |
| Power(kw) | | 5.52 | 5.52 | 5.52 | 5.52 | 5.52 | 5.52 | 5.52 | 5.52 |
| LPG(kg/h) | 13 | 15 | 15 | 19 | 23 | 27 | 32 | 35 | 37 |
| LNG(m3/h) | 16 | 19 | 21 | 25 | 30 | 35 | 45 | 47 | 50 |
| Electrical Heating Power(kw) | 90 | 105 | 110 | 130 | 150 | 270 | 215 | 230 | 235 |
| Capacity(pcs/min) | 14 | 16 | 17 | 20 | 23 | 26 | 33 | 35 | 36 |
MAIN PART OF WAFER PRODUCTION LINE
1.Mixer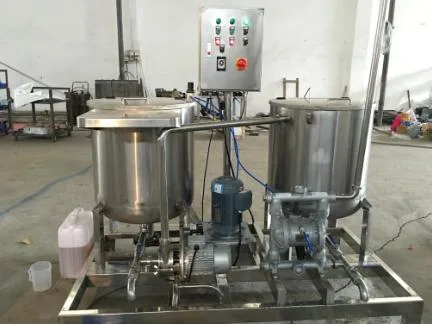 ·This model is an integrated mixer, which is specially used in the wafer production system. The machine includes: batter mixing tank, storage tank, transmission pump and its accessories for the transfer of batter. The slurry mixing tank and the control electric box are made of N304 stainless steel, and the control electric box is required to have good tightness. The capacity of the batter can be converted from 25 kg of flour to 65 kg of batter after 5 minutes of mixing.
2.Baking Oven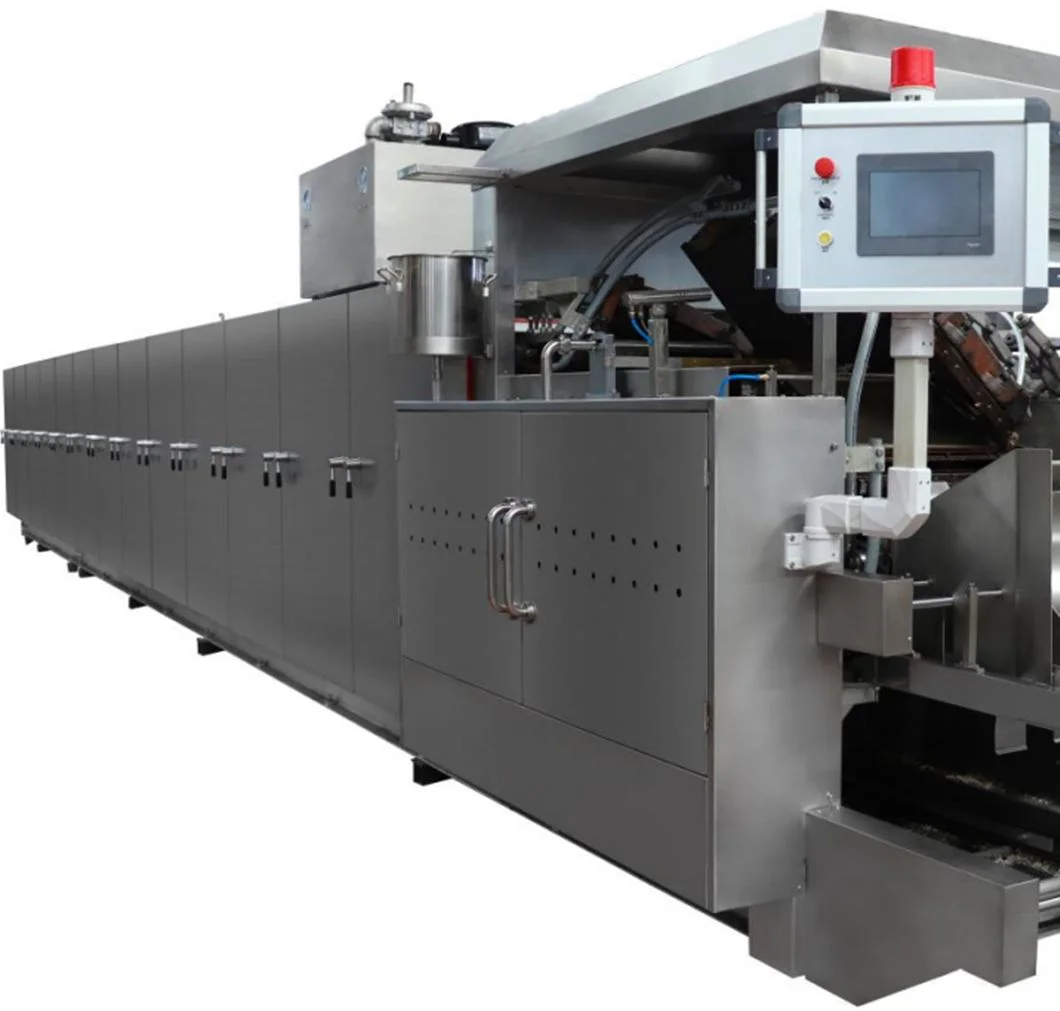 ·
This equipment is very important in the waffle production line. The waffle baking system uses LPG to heat the baking board, which is controlled by a German Siemens PLC. The function of the oven is to automatically fill the baking board with batter until the baked waffle comes out of the oven.
·
Baking evenly and producing quality wafer wafer for further processing, in the PLC internal with a PID controller for automatic control of the oven temperature, the controller required signal acquisition by the United States Raytime production of infrared temperature detector to provide.
3.Splicing Machine


·
Wafer splicing machine will bake good wafer into cooling channel, transmission and gently wipe out bread slice of the powder on the head, to roast hot wafer piece will not damage, at the same time, through the sensor to identify unqualified products and collected through the shredder secondary utilization of all transmission components in contact with food are made by stainless steel and food grade materials.
4.
Vertical cold sheet machine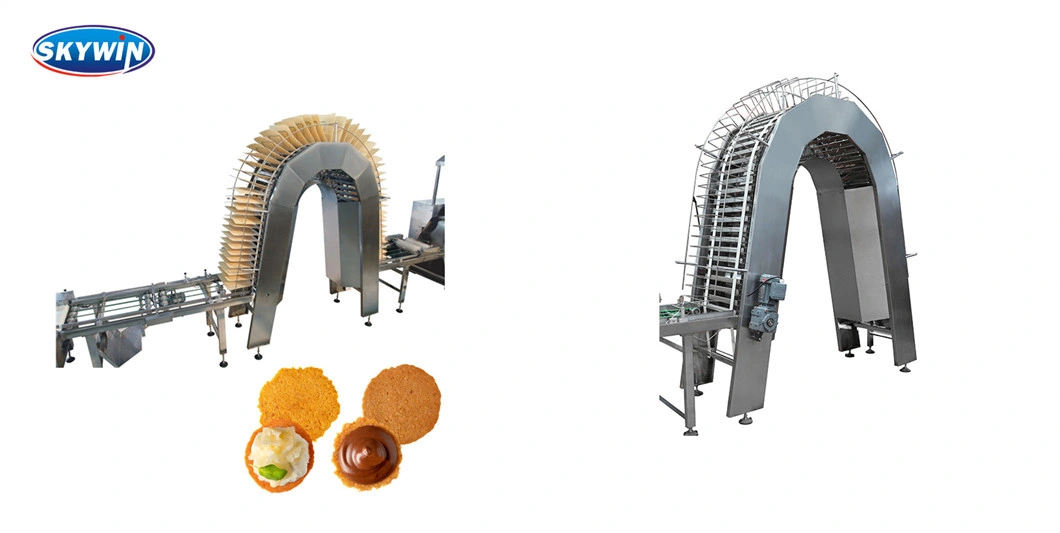 ·
This machine can improve the natural cooling effect of wafer and gently transport wafer. The main function of this machine is to ease the thermal stress of wafer when baking. If wafer cannot be gently cooled, it will be easily broken by small impact due to the influence of thermal force.
5
.
Picking Machine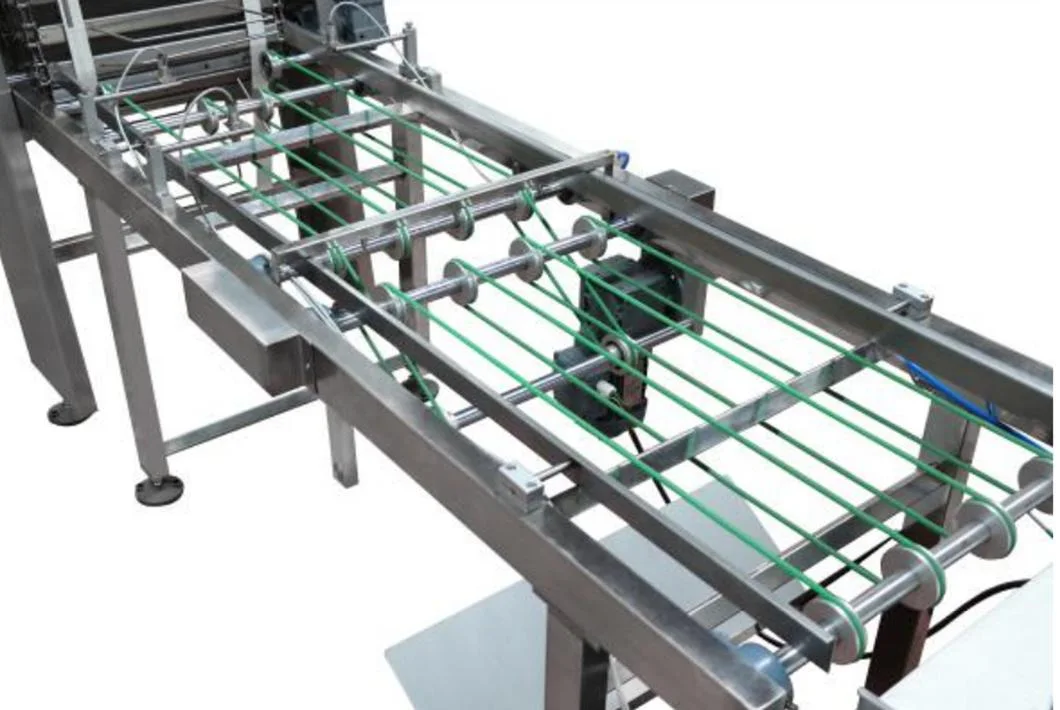 ·The function of the machine is used in the collection of cake pieces; If there is a temporary failure in either one of the coating machine and cooling chamber of the wafer production line, the machine will automatically collect the qualified wafer continuously discharged from the oven after receiving the PLC instruction, and then put the wafer into use when the fault treatment is completed.
6.Cream coating machine

·This machine is an important machine to determine the quantity distribution of wafer and cream layer. It has the following functions: Apply cream layer on the cooled wafer, evenly spread cream and apply each layer of cream on each layer of cake, and then slightly pressure to combine cake and cream.
7.Vertical refrigerator (air cooled)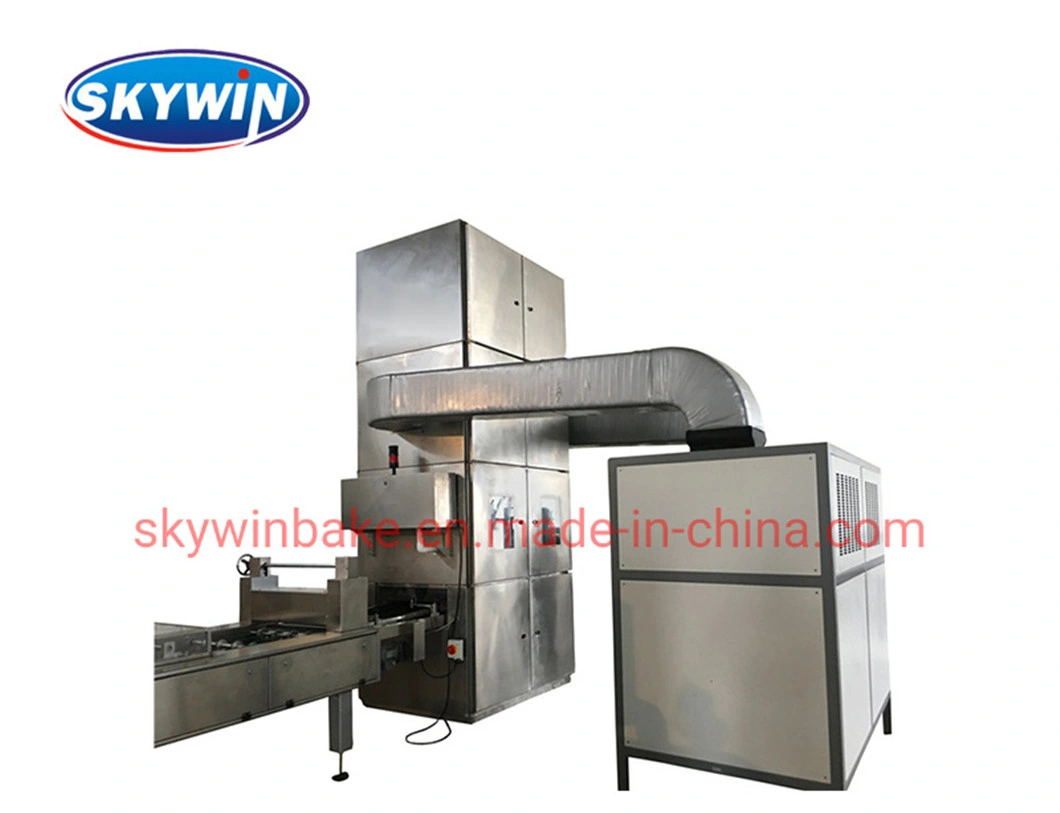 ·Cooling the waffle makes the waffle firm enough for easy cutting and packaging. Cooling the waffle ensures a clean cut.
8
.
Cutting Machine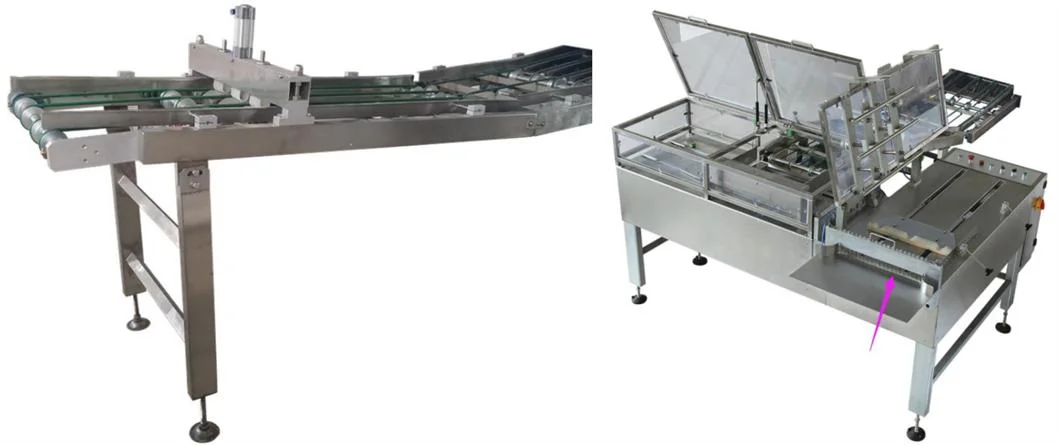 ·
The mechanical cutting machine is mainly used for cutting the wafer cake block, the lamination number can be controlled according to the requirements, the cutting size can be prefabricated tool carrier replacement, the machine cutting is mechanical control (non-pneumatic), so it can be gently adjusted through the machine, vertical and horizontal cutting conversion can be completed automatically.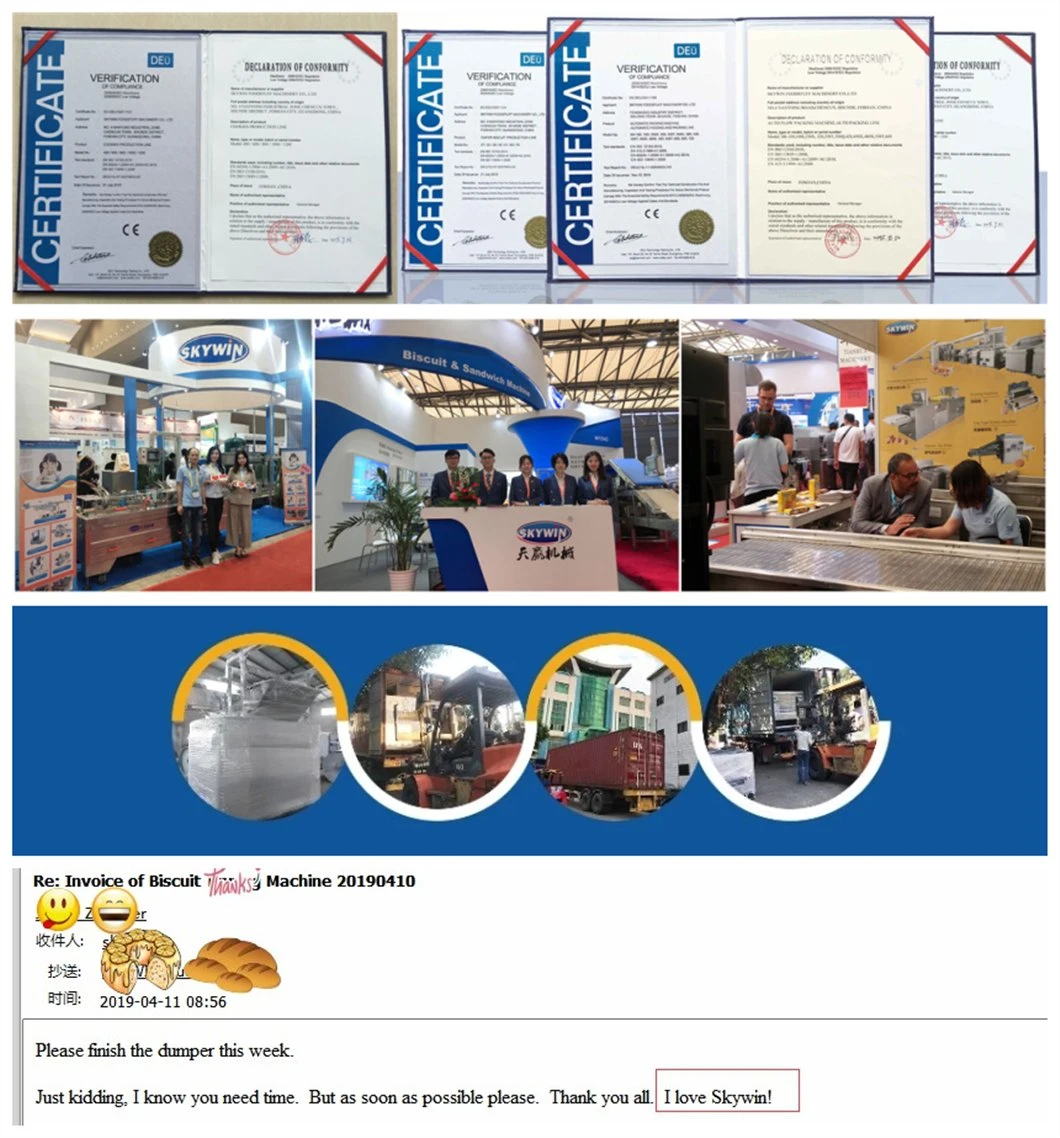 All of our products
comply with international quality standards and are greatly appreciated in a variety of different markets throughout the world.
Packing&Delivery:
Our regular packaging is multilayer packing, safe transport, shipping by sea:
Step 1: Mechanical surface coated with preservative solution (to protect stainless steel).
Step 2: The plastic cushion packing machine (prevent bump).
Step 3: Plastic film packaging (to prevent ventilation).
Step 4: Wooden case / frame packaging (easy to transport).
Step 5: Tie the bandage outside of the wooden case (reinforcement overall).
FAQ
Q1: Which kind of biscuit you can produce for your biscuit line?
A. Hard and Soft biscuit, Soda Cracker, Cookies, also Stick biscuit, Print biscuit and Chocolate filling biscuit, different shape biscuit just need to change the mould, we also can design mould for you as per your details.
Q2. What kind of oven you supply?
A. We can supply gas oven or electrical oven according to your requirement.
Q3. How long is your biscuit line?
A. we can design the biscuit line according to the layout of your workshop.
Q4. Which brand of motor you use for the line?
A. we can supply European motor reducer(SEW) or Chinese famous motor for your options.
Q5. Are you manufacturer?
A. Yes, we are a biscuit machine manufacturer in China.
Q6. How is the payment?
A. We accept 40% T/T deposit before production and 60% T/T balance before shipment,and Western Union or L/C.